---

---
---
---

Sunday, March 11th - Baltimore Antique Bottle Show [8 a.m. - 3 p.m.]. Physical Ed. Center, CCBC Essex, 7201 Rossville Blvd., Baltimore, MD. [I-695, Exit 34].

Saturday, April 7th - Ohio Valley Bottle Club's Annual Bottle & Table-Top Antiques Show, 9 a.m. - 2 p.m., early buyers 7:30 a.m. [$10]. J.B. Martin Recreation Center, 102 Fair Avenue, St. Clairsville, OH. Exit 216 off I-70. General admission $2.

Saturday, May 12th - Mansfield Antique Bottle Show, 9 a.m - 2 p.m. [early admission Fri., May 11]. Info: Matt Lacy at 440.228.1873. Richland County Fairgrounds, Mansfield, OH.

Sunday, May 20th - Washington County Antique Bottle Club Show & Sale, 9 a.m. - 2 p.m. Alpine Star Lodge, 735 Jefferson Ave., Washington, PA. Admission $3.
---
---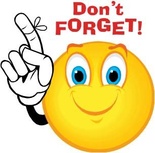 If you would like to receive an email reminder prior to the
2018 PABC Show & Sale,
CLICK HERE.
Type SHOW REMINDER as the subject of email.
Your email will remain private and never shared with others.
---
---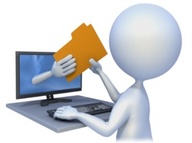 If you would like a contract to set up at the
2018 PABC Show & Sale,
CLICK HERE.
CONTRACT REQUESTS will be emailed
at the beginning of Aug. 2018.
We sold out 4 years in a row!
Please provide your phone number & address
with your request.
Your personal information will remain private and never shared with others.
---
---
The Pittsburgh Antique Bottle Club
48th Annual Antique Bottle Show & Sale
Sunday, November 11, 2018
9:00 a.m. to 2:00 p.m.
$3.00 General Admission
$25 Early Admission - 7:00 a.m. - 9:00 a.m.Location: The Ice Garden, Rostraver, Twp.
101 Gallitin Road
Belle Vernon, PA 15012
Bottles, Stoneware, Tins, Pottery, Advertising, Ephemera,
Small Collectibles and Table-top Antiques
Appraisals & Club Display

100+ TABLES AVAILABLE (1st table $30, additional tables $25 - 3 table limit)
Dealer Hospitality: 6 p.m. - 8 p.m. Saturday night
Dealer set up: 7:00 a.m. Sunday (doors open at 6:00 a.m.)
(Free coffee & donuts during dealer set-up.)

For more information contact:
Bob DeCroo 724.326.8741 or decroo2@yahoo.com
Jay Hawkins 724.872.6013 or Lhawkins63@msn.com


Enjoy the FUN at the PABC 46th Annual Bottle Show next November ...
Bottle Raffle ... buy a chance ... ONLY $1 ... to win a great bottle of your choice worth, at minimum, $100 ... possibilities could be a medicine, iron pontiled soda, historical flask, barber bottle, bitters, back bar bottle, blue/grey crock, mini jug, etc. !!!
50 / 50 Raffle ... buy a chance ... ONLY $1 !!!

---
---
2017 PABC Show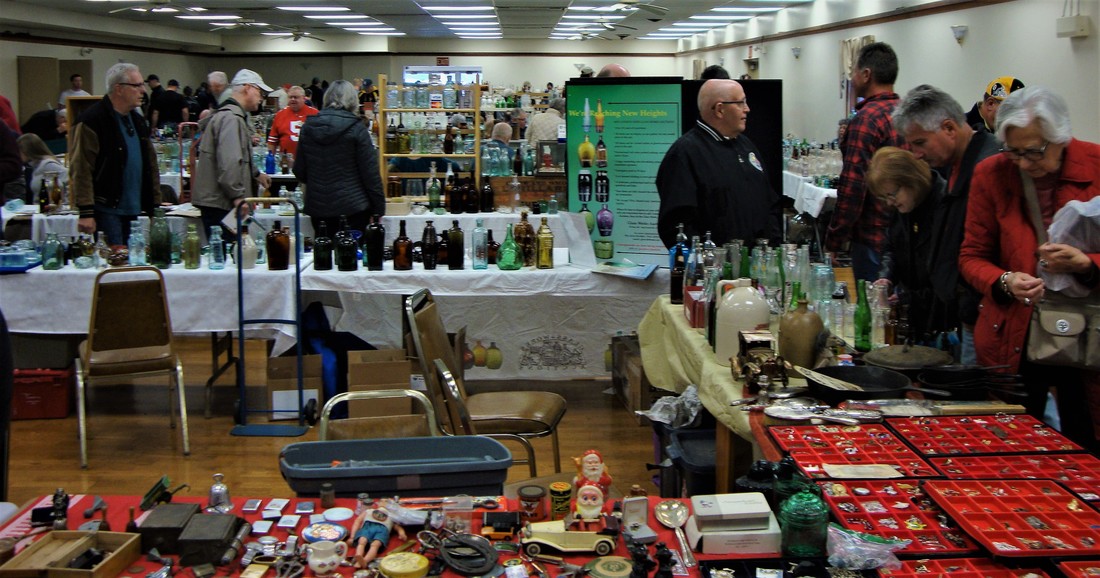 2017 PABC Show Display ... Love Our Labels


---
2016 PABC Show
The 50/50 drawing was won by Bill Sutliff.
The bottle raffle was won Ray VanHorn who chose the
Union/Clasped Hands - Cannon Aqua Flask.

2016 PABC Show Display of fantastic advertising
including annual "Shard-a-Facts" unearthed by club diggers

2015 PABC Show
The 50/50 drawing was won by Galen Ware.
Patty Houch won the bottle raffle and chose the Heinz crock.

PITTSBURGH REGION POTTERY
2015 Show Display

2014 PABC Show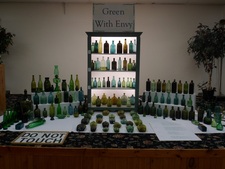 GREEN WITH ENVY
2014 Show Display

Every hue of green was represented
with over 200 bottles and glass items!
Thanks to the following club members who graciously contributed bottles & glass items from their collections: Chip Cable, Bob DeCroo, Tim Tokosh, Jay Hawkins,
Ed & Diane Kuskie, Jim Ignatz, Cris Oskin, Martin Keck, Dave Fassinger, Nancy Alfieri.
---